Hi Blogomaniacs,
How are you today? I checked out of the awful hotel without hot water. The shower did not even have lukewarm water. It was luke, at best. Barely able to shower. Whoa. So, I'm moving way across town to enjoy my last few days in a nicer room and a hot bath. Today, I'm doing two one-hour sessions in the hyperbaric chamber. I'm stuck here at the hospital for four hours until I can go back in. Just had lunch in the cafeteria and although it was not nirvana pad Thai, it was pretty good.
There are many things I don't understand and one of them is why in Chinese or Thai restaurants they ways ask you if you want rice. Well, yes!!!!
Some of you have been asking me what it's like inside the chamber. It gets pretty hot and really humid inside the hood. I'm usually a sweaty mess when I'm done. My breath mixed with 100% oxygen causes it to become super humid.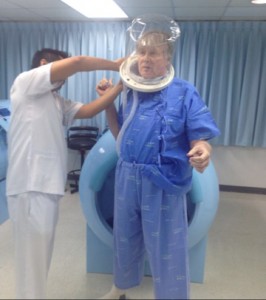 After a half an hour I take the hood off for five minutes and after another half hour I'm done. At first it was such a new experience I didn't do much thinking, but as of late, it's like the left side of my brain (the creative side) has started flowering. When our son Julian was a baby I started writing a children's book that I was also writing music for called, "Louie The Ammerhead Shark." It's about Louie a hammerhead shark who liked to scare little boys and girls and steal all of their toys. Don't worry, Louie reforms. I brought up the idea with Tom Drummond of BETTER THAN EZRA fame during recording sessions we did together last year for my CD,"Signatures" (Tom also produced the CD). Once again, the idea was somehow moved to a back burner again. That is until I was back in the chamber about 10 days ago. I had a vision of a stage production. Music, costumes, lighting, new songs, all of it. I had goosebumps. Not pleasant on the left side of my body, but what an amazing experience I was having. I forgot completely I was in the chamber. So that's what I have been doing and that's what it's like for me inside the chamber.
Have these hyperbaric high pressure oxygen treatments and the acupuncture done any good for my stroke recovery? I'm sorry to say, very little. Still very numb and tingly and vision problems persist. It's looking more like a failed experiment, but one I wouldn't have missed. If I hadn't come, I would always wonder if ….???? I am 100% sure I made the right decision to come. I'm down to my last three days of hyperbaric chamber treatments. Unless a miracle happens or something else, I am afraid I'm going home in pretty much the same shape I left. It's okay. I'm not depressed. Just disappointed and FRUSTRATED. About two weeks ago, Dr. Miau said, "Difficult to treat."
The testimonials from stoke patients on YouTube were all so positive and the reports I read too. Maybe with time things will improve. I hope so.
This blog post is a little longer than previous ones because of the long wait between my treatments.
By the way, you young single men:
If you are young and want to visit an amazing place, come to Thailand. And here is a secret. All the pretty girls work in the hospital. B-line it to a hospital and feign illness. You will be glad you did. (You're welcome.)
Okay, Blogomites. I'm going to see what's happening on the flowering side of my brain until they call me. Bye for now. Thanks for reading. If you want to email me directly, write to: jamiehayesart[at]aol.com.
See ya tomorrow. Xoxo JH