Yo Blog Meisters,
Wow. Just finished with Dr. Miau and am feeling 100% spent. I am sitting in a restaurant across the street from Dr Miau's hospital building called Simply Delicious. I bet it will be. I experienced the usual painful magic needle treatment with Dr Miau and I did my hour long treatment in the chamber this morning. I'll head back for my second hour after lunch. I have done 28 hours in the chamber so far. That means 6 days from now I can head back to the city I love and call home, New Orleans, Louisiana. I'm ready. I will have so much to catch up on. Many prints to sign and spending time with my family. I'm working on a Halloween design that will initially only be available on shirts. I may not even make the deadline. I get so involved coloring my "Sleigh Ride" piece, I forget where I am or the world around me. Left side of the brain, which seems to be flowering at the moment. I'm working on some really cool designs and new songs, but it's all cerebrally for now.
Lunch was SIMPLY DELICIOUS. OMG. My favorite dish in Thailand is also the most common, Pad Thai. It is a kind of spaghetti Asian style with rice noodles and a delicious sace, for those of you not familiar with it. Every restaurant makes it slightly different. It's almost always good, and occasionally great. The one I just consumed was GREAT! I think it may have been the best one ever. I can now face a 45 minute can ride across the city to Yanhee Hospital and the dreaded capsule.
Uh ohhhh … I am stuck in a massive traffic jam on the highway. There must have been an accident. Oh, dear. So if we ever get to the Yanhee Hospital, one more hour of chamber treatment and I'm done for the day.
Well, we made it. Even made good time. Got really lucky with a great driver who knew all the back streets and alleys. Fabulous. I'm here 30 minutes early and so, I'm able to finish this blog post. As we were leaving the other hospital, I saw the guy on the bike again. God knows what he had in those plastic bags? Maybe I don't want to know. Here are the pictures I took from inside the taxi: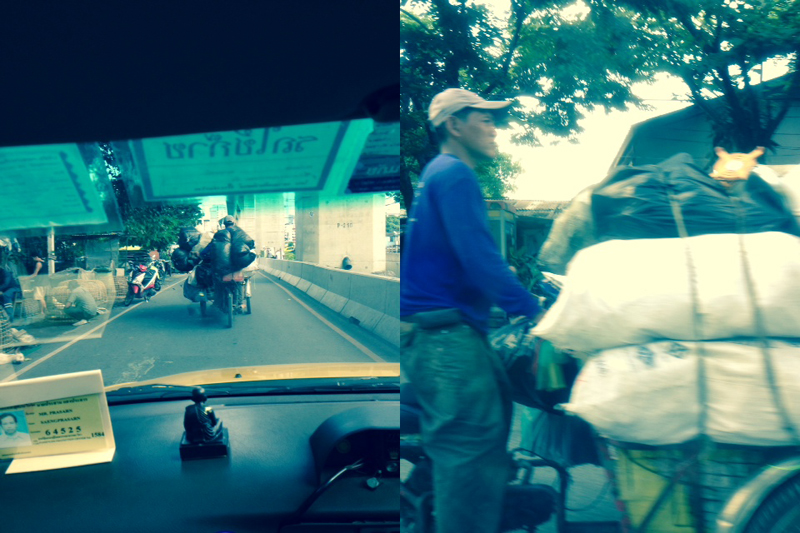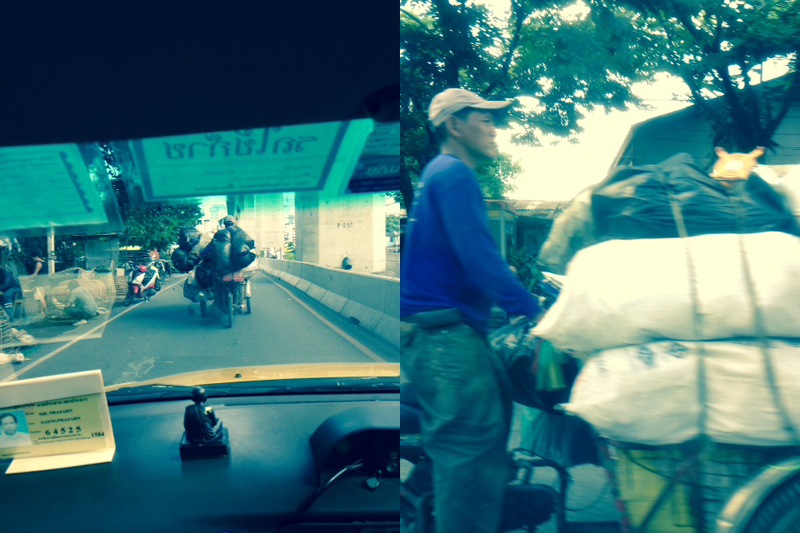 Now that's what I call taking full advantage of what a bicycle is really capable of.
Tonight Ruby has invited me to her favorite seafood restaurant. I'm curious how it stacks up to my favorite one. (Ruby is in charge of my Bangkok team.) Here she is: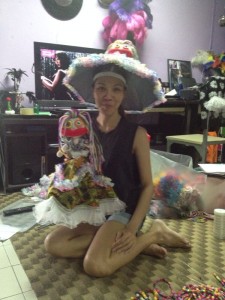 There is a restaurant in Bangkok , a hole in the wall, that is my favorite restaurant in the world. It's called Song Torn and is near the Davis Hotel, next to McDonalds. OHHH what a restaurant! Not fancy. Crappy wine list, but the best seafood you ever tasted. Get there at 5 p.m. when they open, or you'll be waiting for a table. Worth the wait, I promise. Order the crab with Prikpau sauce. You will thank me. It's a little spicy but not too spicy.
So, my Blog Meisters, good bye for today. See you tomorrow.
JH xoxo