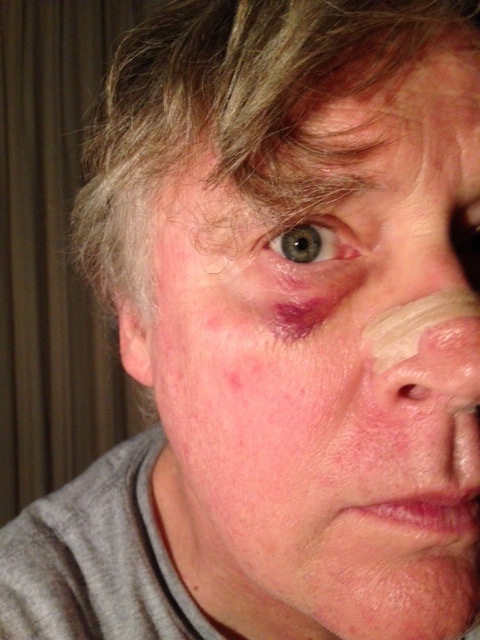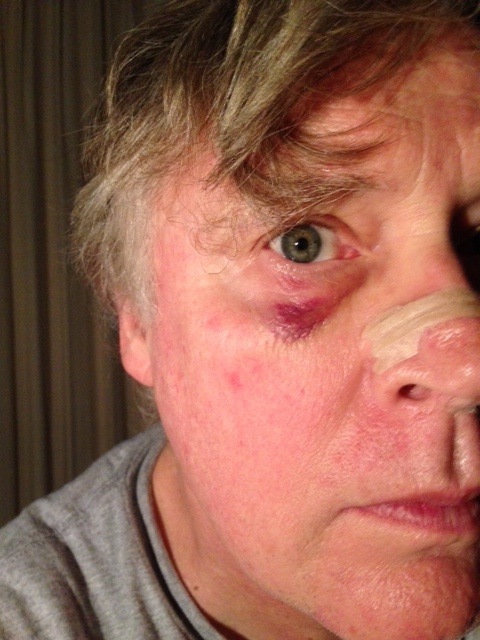 Sorry, not my most flattering portrait. This was moments after I woke up. My neurologist was puzzled. She had never seen a similar reaction from the hyperbaric chamber. My second treatment today as usual was with my acupuncturist, Dr. Miau. She immediately took credit for it. She said she "moved blood." If any of you can explain that, please do. When I last saw her a couple of days ago she did not put a needle anywhere near the spot. Again, if anyone can make sense of it, please, I am all ears.
I met Dr. Miau 6 or maybe 8 years ago, when I had contracted a case of never ending hiccups. Oh boy, you don't ever want to experience that! After trying several Western "regular" hospitals someone suggested acupuncture. There is a big Chinese community in Bangkok and a huge Chinese hospital in the heart of it. I saw an acupuncturist who tried two days in a row to get rid of the fore. I was hiccuping once every 30 seconds or so. Day and night. AWFUL!!! After his second attempt one of the English speaking nurses whispered there would be a woman doctor in the next day. She was a teacher and very good. I was there early the next day. A few needles later I had hiccups no more. She has been my doctor ever since.
She learned the art from her mother. She never formally studied acupuncture. Now she's the head acupuncturist in the biggest and best hospital in Bangkok. And she's  the least affordable too. Still, in my experience she is a true master. She's just fantastic. But a visit with her is never a pleasant experience. In fact, it's rather unpleasant and painful. Once during every session without warning she puts in a needle that feels like a 50,000 volt shock and I am not kidding. I got one of those needles today as a matter of fact. Whoa. After every visit with Dr. Miau, I am 100% spent. The experience takes it completely out of me. Today was no different. Gotta go. I am back at the chamber to have my second treatment of the day. See you tomorrow.
— Jamie Hayes