Hello all,
Who dat! Go Saints! The hardest thing about being alone here in Bangkok is:
1. Missing Pam and Julian. There are also 4 furry creatures living in our home with us that I miss as well: one bad dog, one good dog, one evil kitty and one good kitty. And so I include those with my family.
2. The Saints. I can't stream games live from here for some reason. Huge bummer. Woke up in the middle of the night just as Pam texted me the final score.  So exciting. I fell back to sleep with a smile on my face.
Today is a hospital day like every day and otherwise relatively uneventful. On Wednesday (taking a short break from the treatments,) I am going north to Chiang Mai to work on some new drawings that I have been working on inside my head. I spend weeks and sometimes much longer doing cerebral painting, pre-planning of my works. I can actually "see" them before I put them on paper or a canvas. I suppose that's the hardest part for an artist to learn. It took me MANY years. I used to just doodle. Now I know what I'm going to put down before I put pen to paper.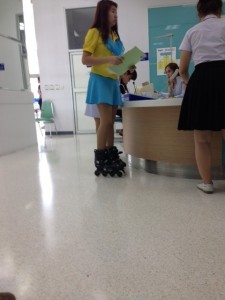 The girl on roller blades in the photo is one of many in the hospital. I think the roller girls transport paperwork from department to department. The hospital is huge.  I never saw those kind of skaters back home in a hospital.
I am sitting here waiting to see the acupuncturist  and then back to the hyperbaric chamber for an hour. Till later. Bye for now. See you tomorrow.
The hospital PS: The cafeteria at the hospital is amazing. You've never had fried rice like this, I suspect. Good in Thailand is truly amazing.
— Jamie Hayes